We believe that long expression partnership is often a result of top of the range, value added service, prosperous encounter and personal contact for Steel Telescopic Protection Cover, Drag Chain Cable Carrier Plastic, Hinged Belt Conveyor, "Quality", "honesty" and "service" is our principle. Our loyalty and commitments remain respectfully at your service. Contact Us Today For further information, contact us now.
---
Factory Outlets Telescopic Bellow Cover For Cnc Machine - Steel Material Telescopic Spring Cover – JINAO Detail:


Structural Features

The Telescopic sprial spring cover is made of high-quality spring steel strip and is heat-treated to protect the ball screw, shaft and rod parts. The protective sleeve is non-contactly coupled with the protected member by a centering flange mounted on both ends of the protected member. The safety of the connection between the protective sleeve and the centering flange is realized by its own pre-compressive elastic force, so it is stable in operation, flexible and flexible, and has extremely low noise. The surface is black and shiny, and coordinate with most flange parts on the machine.
Place of Order

The spiral steel belt protection sleeve is customized according to the parameters such as the diameter of the ball screw, shaft and rod parts, and the moving distance. Therefore, the following methods are used when ordering:
1.Users are selected according to the standard specifications provided by our factory.
2.Users provide protective sleeve D, Lmax, Lmin (special requirement D2)
Designed and manufactured by our factory, the price is calculated according to the standard specifications.
Description

1.The flange of the spiral steel protective cover is made by the user. Our factory provides sketches.
2.bulk order price will have discount
3.D2 is not required except for special case sizes.
Spiral Steel Belt Cover Specifications

| | | | | | | | | | |
| --- | --- | --- | --- | --- | --- | --- | --- | --- | --- |
| Specifications | Lmax(mm) | Lmin (mm) | D1 (mm) | D2 (mm) | Specifications | Lmax(mm) | Lmin (mm) | D1 (mm) | D2 (mm) |
| 20-250-30 | 250 | 30 | 20 | 40 | 70-400-80 | 400 | 80 | 70 | 95 |
| 30-250-45 | 250 | 45 | 3 | 41 | 70-750-100 | 750 | 100 | 70 | 94 |
| 30-450-50 | 450 | 50 | 030 | 50 | 70-1400-120 | 1400 | 120 | 70 | 104 |
| 30-600-50 | 660 | 50 | 30 | 56 | 70-1800-120 | 1800 | 120 | 70 | 120 |
| 40-300-45 | 300 | 45 | 40 | 54 | 75-400-80 | 400 | 80 | 75 | 89 |
| 40-550-50 | 550 | 50 | 40 | 67 | 75-600-100 | 600 | 100 | 75 | 95 |
| 40-800-80 | 800 | 80 | 40 | 65 | 75-900-120 | 900 | 120 | 75 | 97 |
| 40-950-80 | 950 | 80 | 40 | 69 | 75-1200-120 | 1200 | 120 | 75 | 104 |
| 50-550-50 | 550 | 50 | 45 | 73 | 75-1600-1100 | 1600 | 110 | 75 | 115 |
| 45-700-80 | 700 | 80 | 45 | 68 | 80-400-80 | 400 | 80 | 80 | 94 |
| 45-900-100 | 900 | 100 | 45 | 70 | 80-600-120 | 600 | 120 | 80 | 97 |
| 45-1000-100 | 1000 | 100 | 45 | 73 | 80-900-110 | 900 | 110 | 80 | 105 |
| 50-500-50 | 500 | 50 | 50 | 72 | 80-1200-120 | 1200 | 120 | 80 | 115 |
| 50-700-80 | 700 | 80 | 50 | 70 | 80-1400-120 | 1400 | 120 | 80 | 120 |
| 50-900-100 | 900 | 100 | 50 | 77 | 85-400-80 | 400 | 80 | 85 | 100 |
| 45-1200-100 | 1200 | 100 | 50 | 84 | 85-600-100 | 600 | 100 | 85 | 105 |
| 55-350-50 | 350 | 50 | 50 | 72 | 85-800-125 | 800 | 125 | 85 | 106 |
| 55-550-80 | 550 | 80 | 55 | 72 | 85-1000-125 | 1000 | 125 | 85 | 126 |
| 55-800-80 | 800 | 80 | 55 | 78 | 85-1200-125 | 1200 | 125 | 85 | 132 |
| 55-1000-120 | 1000 | 120 | 55 | 77 | 90-400-100 | 400 | 100 | 90 | 105 |
| 55-1400-110 | 1400 | 110 | 55 | 86 | 90-600-100 | 600 | 100 | 90 | 111 |
| 60-400-50 | 400 | 50 | 60 | 79 | 90-800-125 | 800 | 125 | 90 | 111 |
| 60-600-80 | 600 | 80 | 60 | 78 | 90-900-125 | 900 | 125 | 90 | 127 |
| 60-900-100 | 900 | 100 | 60 | 87 | 90-1200-125 | 1200 | 125 | 90 | 137 |
| 60-1200-120 | 1200 | 120 | 60 | 88 | 95-400-100 | 400 | 100 | 95 | 110 |
| 60-1600-120 | 1600 | 120 | 60 | 98 | 95-600-125 | 600 | 125 | 95 | 112 |
| 65-400-50 | 400 | 0 | 65 | 85 | 95-800-125 | 800 | 125 | 95 | 130 |
| 65-700-80 | 700 | 80 | 65 | 87 | 95-1000-125 | 1000 | 125 | 95 | 137 |
| 65-1000-100 | 1000 | 100 | 65 | 95 | 100-600-120 | 600 | 125 | 100 | 118 |
| 65-1400-110 | 1400 | 110 | 65 | 99 | 100-800-120 | 800 | 120 | 100 | 135 |
| 65-1800-110 | 1800 | 110 | 65 | 109 | 120-600-125 | 600 | 125 | 120 | 150 |
Steel Belt Protection Sleeve Installation Diagram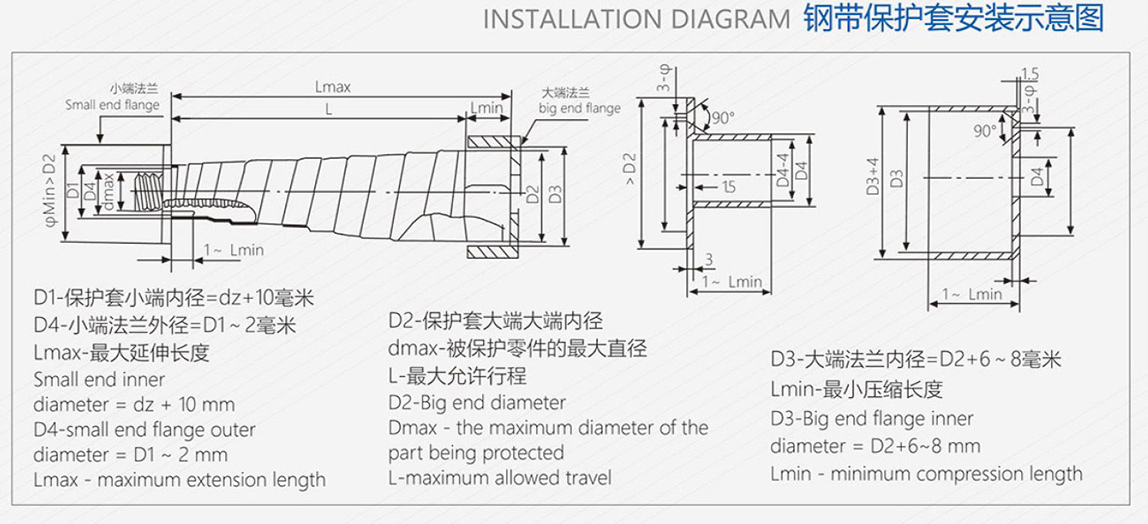 ---
Product detail pictures:


---
Related Product Guide:

---
We've one of the most advanced generation tools, experienced and qualified engineers and workers, recognized good quality manage systems and a friendly skilled product sales workforce pre/after-sales support for Factory Outlets Telescopic Bellow Cover For Cnc Machine - Steel Material Telescopic Spring Cover – JINAO , The product will supply to all over the world, such as: panama, Naples, Sri Lanka, Our company considers that selling is not only to gain profit but also popularize the culture of our company to the world. So we are working hard to give you the wholehearted service and willing to give you the most competitive price in the market